PRESS RELEASE
Global convention industry consulting firm, GainingEdge, has released its third annual Competitive Index of international convention destinations. The 2020 edition extends the listing to the world's top 101 cities – those which have hosted 87 or more international conventions over the past three years as reported by the International Congress & Convention Association (ICCA).
GainingEdge Analysis & Research Head, Milos Milovanovic said the main purpose of the Destination Competitive Index is to develop methodology and establish relevant quantitative tools in the global meeting industry.
"We have developed tools to evaluate convention destinations, establish their competitive relativity and equate that to potential business levels, providing foundation for quantitative analysis and data for facts-based decision making. This will help destinations to understand their competitive position, relation between different competitive factors and to identify areas for improvements in relatively short time. Finally, the Index provides quantitative indicators that enable the meetings industry to be understandable to decision makers (governmental bodies or city authorities) and make their proposals on fact-based data."
This year's report further advances the discussion it began last year with two powerful benchmarking approaches, "fair share" analysis of a destination's business levels and "ratio analysis" meant to help destinations focus in on their most important competitive issues based on the cities with which they are actually competing with. Additionally, the report looks at the impact of COVID-19 for 2020 and the years to come.
Is your destination getting its fair share?
Last year GainingEdge introduced the concept of "fair share" to the world of convention destinations. The Competitive Index system is able to take any competitive set and determine how the cities within it are performing in relation to their fair share. (See sidebar for instructions on using the report for calculating your destination's fair share.)
GainingEdge CEO, Jon Sivertson, said that the last year has shown the real value of fair share analysis to destinations.
"We took the concept of fair share we pioneered last year to many destinations around the world. We have used this tool to work with several destinations to help them gain insights into where they are and whether they should be working to gain market share or to protect their current share," Sivertson said. "This is no longer a concept, but a tool we've proven in the market to help destinations determine if they are above or below fair share, and the reasons for it. Fair share analysis has helped destinations develop actionable strategies and informed robust business cases for bureaus seeking increased resources, be they financial, organisational or intellectual."
Paris tops the list of the most competitive destinations, but there are many other cities to watch.
Paris once again tops the list, with Singapore taking the crown in Asia-Pacific while New York is the leading city in America.
This year the report emphasizes several destinations which achieve results above their level of competitiveness – this means these cities effectively leverage their competitive advantages, indicating they have strong local industries and convention bureaus – and so are highlighted as cities to watch.
Lisbon achieved a historical best in 2019 with ICCA ranking it 2nd in the world while the Competitive Index has Lisbon`s convention product ranked in 43rd position – showing Lisbon secures far more international meetings than should be expected by its convention products. The indication is that Lisbon is very effective at leveraging its competitive advantages!
Prague, a stable top 10 in the ICCA ranking, improved its position from 52nd to 47th position in terms of destination competitiveness. Having a less competitive convention destination product than many global and European cities, Prague's meeting performance is indicative of a strong convention bureau very effective at harnessing the city's intellectual capital.
Athens is showing strong signs of recovery after the long-term economic crisis in Greece, with a gain 4 positions from last year (to 58th globally & 26th in Europe) in the Index. Being 17th on the ICCA list, Athens is performing very well but the report says it may need to secure new avenues for growth to maintain this positive trend.
Bangkok has experienced the strongest growth in our Index, among the top 20 destinations (jumping 10 places to 8th place) while ICCA ranks it the 2nd in Asia-Pacific region and 13th globally. Clearly Bangkok has improved its product as well as its meeting results and now it is a top global convention destination – engaging its intellectual capital could help it navigate the current global crisis, the impacts of which will likely be greater for cities which bank on strong destination appeal (and so could be an issue for Bangkok) than for those that are recognised intellectual and scientific hubs.
Hangzhou has emerged as a new destination in the international convention business with a 74th place in the ICCA top 100, while ranked 37th globally (13th in Asia) in terms of destination competitiveness – an improvement in the ranking which is indicative of the strong infrastructure and new development projects in the city. With a strong creative and digital economy, it could be a great example to other Chinese and Asian cities on how to leverage competitive advantages to improve their competitive position.
Buenos Aires, though ranked 69th globally in the Index, is the absolute leader among Latin American cities in terms of international association meetings hosted (as evidenced with its 11th place ICCA ranking). Latin American cities generally compete among each other for international conventions but Buenos Aires shows it has strong local leaders able to bring events to the city and solid destination capabilities to support them.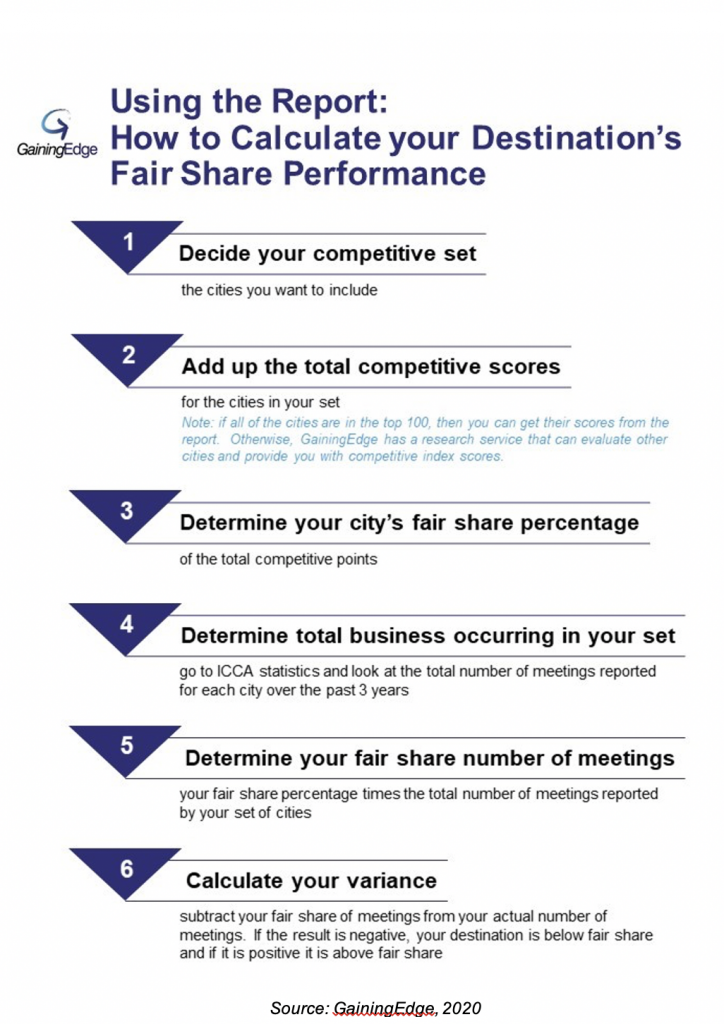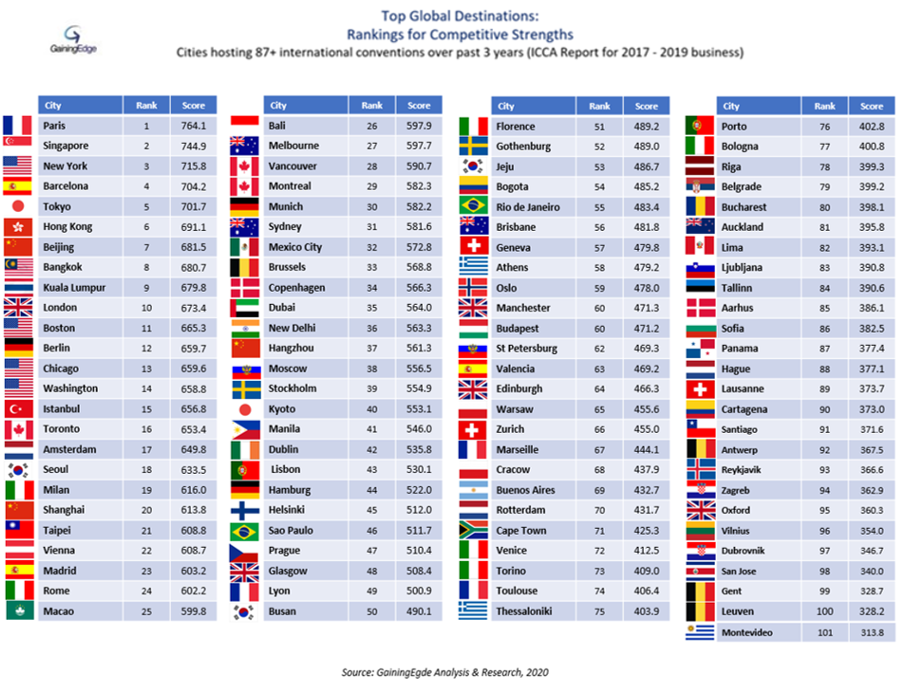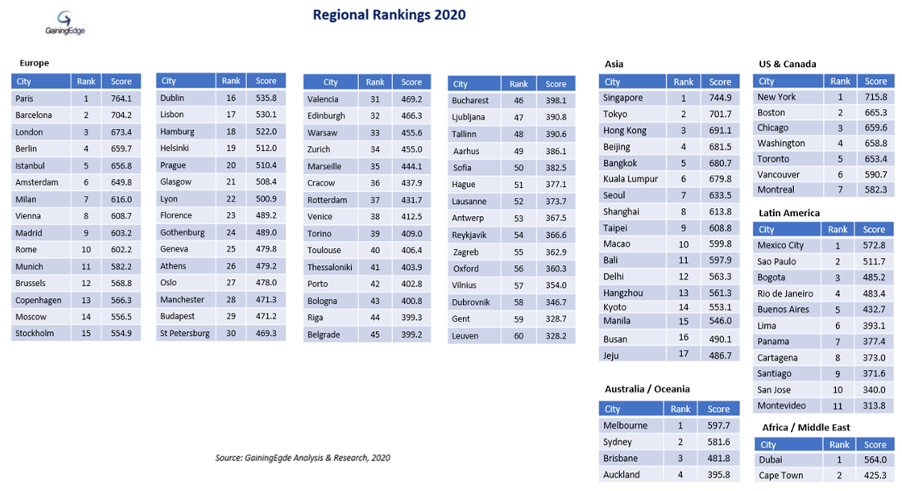 -ENDS-
For further information contact:
Jon Sivertson, CEO
Phone: +1 604 360 4633 (Canada)
Email: jon@gainingedge.com